This beautiful poster appears in the Nov/Dec 2016 issue (Vo. 75, No. 6). It's illustrated by Rosa-May Rutherford, with words by Christine Dann and was conceived by acting editor Rachel Rose. It's free to download; if you like it, please share it online or print a copy for your fridge or workplace/kindy/clubroom noticeboard. It could also be a useful resource in the classroom.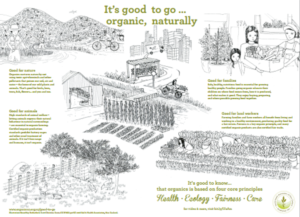 "I loved being involved with this project, working with these two wonderful women who put so much thought and effort into the final design," says Rachel Rose. "It's full of tiny details, each one carefully considered and representing something about the diverse state of organics in New Zealand at this time."
"I know this magazine is preaching to the converted: you, gentle reader, understand the value of organics," wrote Rachel Rose in the magazine's editorial. "But I'm frustrated with how organics is presented by mainstream media, how self-interested it is. It's so very often all about how organics is better for ME, for MY family, MY health.  "Yes, it is. And it's also better for the children of the people who work on organic land and therefore aren't exposed to toxic chemicals and the unsanitary conditions created by factory farming. It's better for everyone's kids, who can swim in their local river or safely eat fish caught from it."
"And so Christine has included three other ways in which the switch to organics benefits us all. I hope the poster will act as a conversation starter, giving each of us ideas about how to start gentle discussions with others, about why we value organics and why it's a good thing to consider – people at work, in the organisations we volunteer in, other parents at kindy or school, neighbours and family members."
It has been released under a Creative Commons license, to encourage people to distribute it widely. This issue is on sale until early December 2016. After that time, a back issue can be ordered by contacting the office on 09 419 4539 or emailing us at or a digital version of the magazine can be purchased.
Download a high-resolution file suitable for printing (7 MB) or a smaller file to use online.