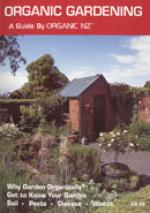 The Organic Gardening Guide, published by the Soil & Health Association, is an excellent introduction to the principles and practise of organic gardening.
The book is recommended by experienced tutors and practicioners in the field of organic growing. It doesn't tell you specifically how to grow your lettuce or tomatoes, but it does tell you about the fundamentals of organic growing.
The "Organic Gardening" booklet is available for purchase from Organic NZ for $9.90.
The Soil & Health Association has made the booklet available here to assist you in your organic gardening endeavours.
Contents: