Opinion
Organics: The time 

is now! We need to lead the way, says

 Noel Josephson

 
Features
From crop to shop:

 30 years of teamwork

 – 

Trudy 

Kessels

 visit

s 

Janet Chambers and Judy Moss

 of JJ Organics in Napier

 

Rabbits in an orchard ecosystem, b

y David Whyte

 

Coping with chemo – natu

rally

: 

Denise Cox

 shares the natural remedies she used alongside chemotherapy
Gardening
Tiny homes for plants

: 

How to build a cold frame for seeds and seedlings, by Duncan Hill

 

Pruning subtropical fruit 

and

 grapevines

: 

How to prune avocados, citrus, 

feijoas

, figs and grapevines, by Kath Irvine

 

Moon calendar for July and August by Rachel Pomeroy
Health and food
Ready to roll

: A

 mobile organic kitchen

 – 

G

reen Cuisine's story and recipes

 

 

Winter wellness: 

Ward off coughs,

 colds and flu – naturally, b

y Sandra Clair

 

Reducing 

electrosmog

 exposure

: 

Ricki's

 road to recovery

, by Anne 

Gastinger
Farming and horticulture
Hidden heroes

:

 Fostering fungi for healthy plants

, by David Whyte

 

Tracking soil: R

egular soil testing to track changes

, by 

Dr

 Tim Jenkins

 

 
Building and technology
Future-proofing shelter

:

 

The climate-safe house project

, b

y Scott Willis

 
R
egulars
Editorial

, 

Letters

, 

Competitions

, 

News

, 

Soil & Health AGM 

news,

 

Things we like

, 

Soil & Health events and contacts

, 

What'

s on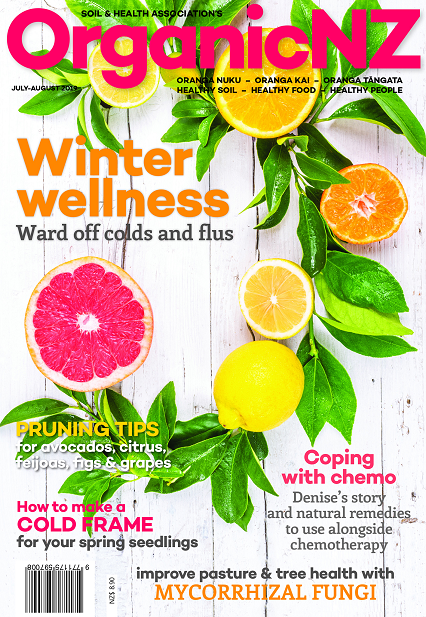 When you join Soil & Health, you receive the current issue of Organic NZ, which is the first in six magazines you receive for a one year membership.
Organic NZ gives you access to current information on organic growing, eating, shopping, businesses - plus health issues, publications, national & international news and events.
By joining Soil & Health and receiving Organic NZ, you are supporting the work of the Association to see the vision of 'Organic 2020' - an organic nation.