Date: Saturday 20 July
Venue: Christchurch (venue to be confirmed)
All members and supporters are warmly welcome to our AGM.
More details including the venue, National Council nominees and voting papers will be published in the July/August issue of Organic NZ , and will be simultaneously available at www.organicnz.org.nz (from 24 June).
Call for nominations for National Council
We encourage you to consider who would be good people to carry forward the vital work of Soil & Health in championing organics in New Zealand. Members of the Soil & Health Association can nominate someone for the governance body, and/or submit a remit to the AGM.
The closing date for nominations and remits is Friday 24 May 2019.
Those nominated should submit a brief background history, including strategic experience with a national organisation and governance strength, and a note of their aspirations for their term in office.
The National Council consists of seven elected members who are voted in for two-year terms.
Nominations must include the names of a nominator and seconder who are eligible voting members of the Association.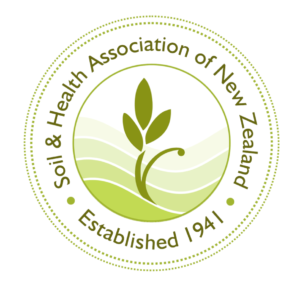 Current National Council members
Bailey Peryman, Marion Wood and Steffan Browning have been elected for the 2018–2020 term.
The terms of Marion Thomson, Mike Ryan and Moko Morris are up for renewal at the 2019 AGM.
Penelope Bundy has stepped down from National Council.
Remits and other business
If submitting remits or other matters of business, please accompany these submissions with:
Relevant information, arguments and explanations to assist members to develop an informed opinion.
The names of a proposer and seconder who are eligible voting members of the Association.
The following remit is being put forward by Soil & Health's National Council.
Rationale: to finalise the Soil & Health/BioGro merger documentation.
That the constitution of BioGro New Zealand Ltd be changed as follows:
1.1 Delete: "Shareholder" means the New Zealand Biological and Consumers Society Incorporated
Add: "Shareholder" means the Soil & Health Association of New Zealand
09 419 4536
PO Box 9693
Marion Square
Wellington
6141