The Association's governance body is called the National Council (NC).
NC Members are appointed by the membership and elected for a two-year term.
There are currently six members on National Council.
Moko Morris and Bailey Peryman are Co-Chairs of the Council.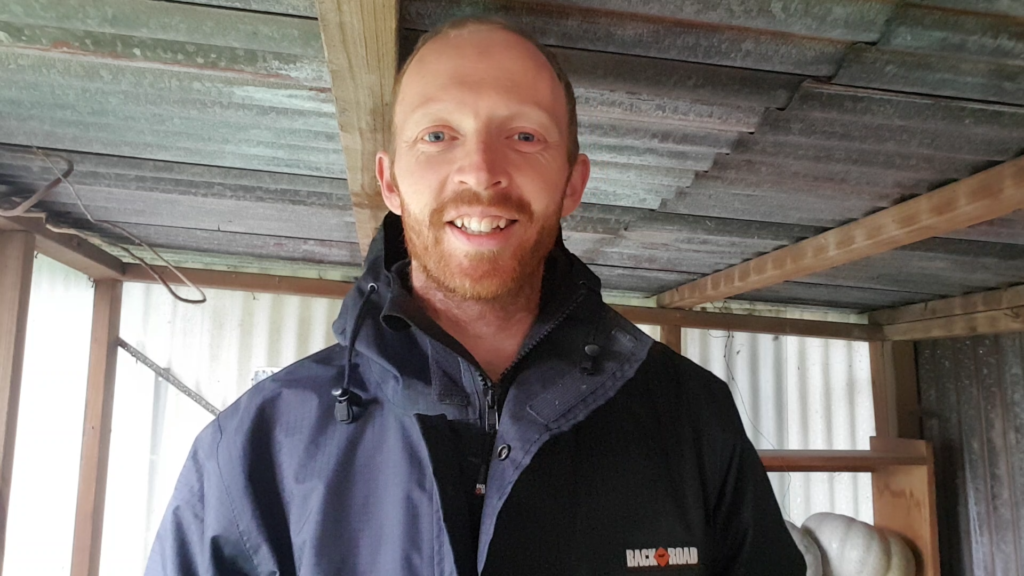 Bailey Peryman
Firstly, I am a dad and husband with a young family. I have 10 years' experience at the grassroots of the organics movement in Christchurch, an honours graduate from Lincoln University (Environmental Management), community gardener, local food entrepreneur, and recently co-founded Cultivate Christchurch (see article in Organic NZ May/June 2018).
Since 2012, I've been involved with Soil & Health Canterbury, held the role of chair and attended national events and AGMs during the 2015–16 period of merging with BioGro. It has become clear there are significant governance challenges as a result of the merger and I am responding to recent calls for younger people to join the National Council (NC).
Elected to NC or not, I intend to use my ongoing leadership role within Cultivate to leverage support to grow the organics movement in NZ in the following ways:
• Develop regenerative and community-supported urban agriculture projects;
• Support small organic growers nationwide through the changes ahead from new MPI regulations for organics;
• Grow grassroots initiatives and networks that have significant nationwide potential;
• Engage with central and local government to build support for community-based education and training for young people in organics, as well as improving policy in support of food sovereignty initiatives.
Marion Wood
Marion Wood is executive director of Commonsense Organics. She is chair of the Organic Retailers of New Zealand, a former deputy chair of the Sustainable Business Network and on the Board of Fair Trade Wellington. She is also a director of Common Property Ltd, an organic market garden in Te Horo, an hour's drive north of Wellington.
Her focus is on making organic food more accessible to people in Aotearoa New Zealand, and developing a successful ethical business paradigm based on organics, environmental sustainability and fair trade, as well as financial sustainability.
Marion has a long involvement in the not-for-profit sector. She is a former national director of the YWCA of Aotearoa New Zealand, and worked as a founding consultant for the Waitangi Consultancy Group on Treaty of Waitangi issues. She was involved in:
• starting the first Trade Aid shop in Wellington;
• initiating and chairing the Council for International Development, the umbrella group for development agencies in Aotearoa New Zealand;
• a successful campaign to make Wellington the first fair trade capital in the southern hemisphere.
Mike Ryan
Michael received a BSc in chemistry and biochemistry, followed by an MBA from Boston University, USA. His career began initially in finance, developing into broader business management appointments. This has included national and regional appointments for both Watties and HJ Heinz, giving him a strong background in the established food industry.
In recent years Michael has assisted companies improve performance through incorporating or changing management systems. He has also assisted start-up businesses with strategy and funding plans.
His vision for becoming involved with Soil & Health is to assist getting the Association to the next stage of professionalism and effectiveness in the global move to healthy, natural, and sustainable agriculture.
Moko Morris
The national coordinator of Te Waka Kai Ora, Moko is excited about supporting maara kai in Ōtaki, (where she is based) to become Hua Parakore verified.
A former enviroschools facilitator, Moko is now a teacher in the Environmental Unit, Te Puna, at Te Wananga o Raukawa. Her year two students learn skills to evaluate the health and wellbeing of freshwater ecosystems at catchment scale, te reo Māori, and iwi and hapu studies which explore their marae, history, waiata. The students also receive a one-year subscription to Organic NZ.
Moko will also be working with Ngā Purapua (Institute of Māori Lifestyle and Advancement Centre) to develop healthy eating and cooking classes.
Steffan Browning
Kia ora tatou. I am a life member and previous National Councillor and Association spokesperson, 2003–2011, a period that had a steady growth in membership and strong positive media exposure, particularly on food safety, pesticides and genetic engineering, and the positive advantage of organic production and food. I maintained significant work on those issues as a member of parliament, 2011–2017, and remain committed to this work.
My experience as a BioGro certified grower of 17 years and then board member (2004–2012), including roles on the standards and certification committees, is critical on National Council now that Soil & Health owns BioGro NZ. I understand the importance of supporting a unified organic sector and the regulation of a national organic standard with integrity, ensuring the interests of BioGro and OrganicFarmNZ licensees and organic home growers are met, with a robust organic consumer guarantee.
I have been a town centre organic retailer and was a founding member of the Marlborough Farmers Market, while also New Zealand's then largest certified organic hothouse vegetable producer, selling throughout Aotearoa.
The Soil & Health Association has a long history, and once was a major New Zealand organisation with many branches and a membership rivalling other major NGOs. Membership has fluctuated in recent years and now needs a major lift.
The alarming doubling of the membership fee is unfortunately just one measure of a National Council that has become dysfunctional. This needs a reconnecting with and build of membership, trust and integrity, while ensuring a professionally run organisation.
A strong refresh of the National Council is needed with a mix such as the long experience of Marion Wood and myself with the generational vision of Bailey Peryman and Penelope Bundy.
Marion Thomson
Marion considers it an honour to be involved with the Soil & Health Association of NZ through the National Council and welcomes the opportunity to continue her work with an organisation that has such an inspiring vision - Organic Aotearoa by 2020
Marion is involved on many levels with individuals, groups, schools and communities who are all on the pathway to achieving this vision. People that are working to become more self reliant, growing their own organic food, supporting organic growers, buying local, and working towards a lower carbon economy.
Currently a tutor for EIT / Tairawhiti Polytech at Auntys Garden at Waipatu Marae, Marion teaches fulltime levels 1-3 Horticulture Courses which are free and marae based. I have been involved at Aunty's Garden and at Waipatu Marae since the large garden for the community was developed in Spring 2010. I have also taught over 100 whanau basic gardening, health, nutrition and cooking skills through contracts with the HBDHB and Te Taiwhenua o Heretaunga.
Marion is also the OFNZ Certification Manager for the Hawkes Bay and Gisborne areas promoting ecological sustainability on a daily basis through many different projects including: information and education, green waste and food waste recycling, organic certification (OFNZ), organic gardening, green building, restoration projects.
She believes the Soil & Health Association has the potential to not only improve and strengthen not only the environmental, but also the social and economic framework of Aotearoa.