The Association's governance body is called the National Council (NC).
NC Members are appointed by the membership and elected for a two-year term.
There are currently seven members on National Council.
Marion Wood is Chair of the Council.
Marion Wood
Marion Wood is executive director of Commonsense Organics. She is chair of the Organic Retailers of New Zealand, a former deputy chair of the Sustainable Business Network and on the Board of Fair Trade Wellington. She is also a director of Common Property Ltd, an organic market garden in Te Horo, an hour's drive north of Wellington.
Her focus is on making organic food more accessible to people in Aotearoa New Zealand, and developing a successful ethical business paradigm based on organics, environmental sustainability and fair trade, as well as financial sustainability.
Marion has a long involvement in the not-for-profit sector. She is a former national director of the YWCA of Aotearoa New Zealand, and worked as a founding consultant for the Waitangi Consultancy Group on Treaty of Waitangi issues. She was involved in:
• starting the first Trade Aid shop in Wellington;
• initiating and chairing the Council for International Development, the umbrella group for development agencies in Aotearoa New Zealand;
• a successful campaign to make Wellington the first fair trade capital in the southern hemisphere.
Jodie Bruning
Jodie Bruning (B.Bus. Agribusiness) is a researcher and writer who, after researching pesticide risk assessment processes, recognised that modern science (including mixture effects, endocrine disruption, epigenetic risk) is not commonly integrated in risk assessment, and problematic reliance on chemical industry for data can result in biased assessments.
Jodie established https://www.rite-demands.org/ to recommend solutions to more safely protect the public (especially children) and our environment. Jodie believes that after climate change, chemical toxicity is the greatest threat humanity faces. She would like to support Soil & Health to strategically increase public knowledge around organics, pesticide free food and support farming families in transition from the chemical-industrial system.
Jodie and Steffan Browning co-authored a significant report on glyphosate toxicity which was supported by NZ public health scientists. Jodie is a trustee for Physicians and Scientists for Global Responsibility, a post-graduate student at Auckland University, and lives in the Bay of Plenty with her family.
Jenny Lux
With my husband Richard Gillies I run a market garden in Rotorua, certified organic by OFNZ (www.luxorganics.co.nz). We have two boys aged 9 and 11. I have a Masters in Environmental Science from the University of Auckland.
I am passionate about soil health, organic production methods, and rapidly reducing carbon emissions in the near future. Hence our farm uses low emissions technologies (hand tools, electric tools, and electric transport).
I have held chair, treasurer and secretary roles in Rotorua organisations such as Playcentre and our 250-member organic food co-op, and am particularly focussed on good governance and proper process being followed. Excellent communication and respect are key to any functioning organisation, as well as always returning to core values in any decision-making.
Lux Organics has gained a reputation as an innovator in its field, being one of the first companies in NZ to use fully home compostable salad bags.
Mike Ryan
Michael received a BSc in chemistry and biochemistry, followed by an MBA from Boston University, USA. His career began initially in finance, developing into broader business management appointments. This has included national and regional appointments for both Watties and HJ Heinz, giving him a strong background in the established food industry.
In recent years Michael has assisted companies improve performance through incorporating or changing management systems. He has also assisted start-up businesses with strategy and funding plans.
His vision for becoming involved with Soil & Health is to assist getting the Association to the next stage of professionalism and effectiveness in the global move to healthy, natural, and sustainable agriculture.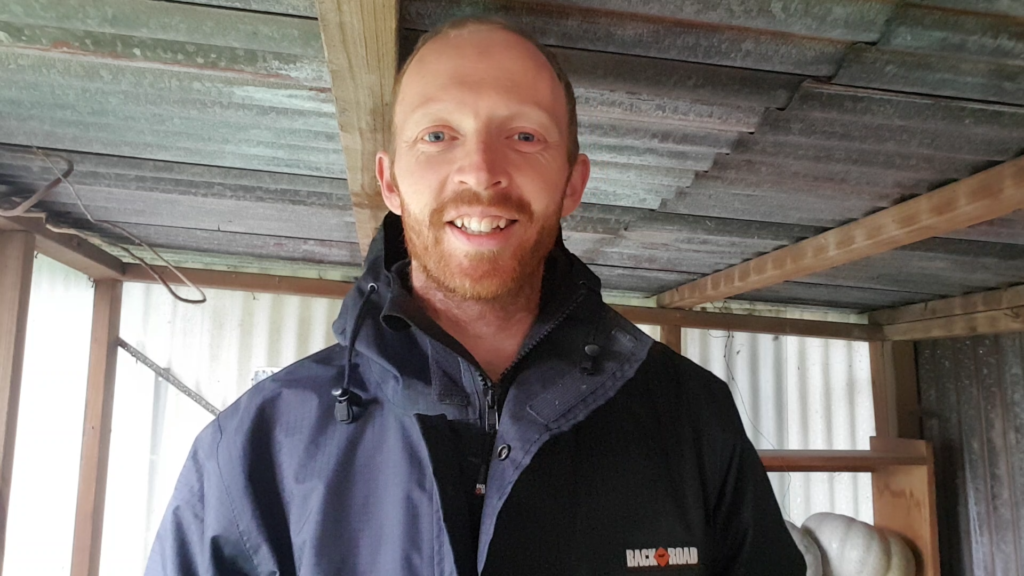 Bailey Peryman
Firstly, I am a dad and husband with a young family. I have 10 years' experience at the grassroots of the organics movement in Christchurch, an honours graduate from Lincoln University (Environmental Management), community gardener, local food entrepreneur, and recently co-founded Cultivate Christchurch (see article in Organic NZ May/June 2018).
Since 2012, I've been involved with Soil & Health Canterbury, held the role of chair and attended national events and AGMs during the 2015–16 period of merging with BioGro. It has become clear there are significant governance challenges as a result of the merger and I am responding to recent calls for younger people to join the National Council (NC).
Elected to NC or not, I intend to use my ongoing leadership role within Cultivate to leverage support to grow the organics movement in NZ in the following ways:
• Develop regenerative and community-supported urban agriculture projects;
• Support small organic growers nationwide through the changes ahead from new MPI regulations for organics;
• Grow grassroots initiatives and networks that have significant nationwide potential;
• Engage with central and local government to build support for community-based education and training for young people in organics, as well as improving policy in support of food sovereignty initiatives.
Peter Wells
As we face a global climate crisis impacting the health of our farms, communities, and ecology, I see Soil & Health as a much-needed compass for the land ethic innate to organics, and a champion for the work being done across Aotearoa to model thriving, equitable, and beautiful landscapes for our future.
With a background in arts and ecology, my work focuses on regenerative and community-led landscapes. Currently, I coordinate the Ōtākaro Orchard project, a $2M shared vision to create a local food hub in the Christchurch CBD and contribute to planning the Ōtākaro-Avon River Corridor (the 602 ha former red zone). I have extensive experience working with not-for-profits in fundraising, programmes, and strategy, and am able to fulfill all the responsibilities of this role. If appointed, I will be delighted (and accountable) to uphold the legacy of Soil & Health and help us sail through whatever weather in the years ahead.
Steffan Browning
Kia ora tatou. I am a life member and previous National Councillor and Association spokesperson, 2003–2011, a period that had a steady growth in membership and strong positive media exposure, particularly on food safety, pesticides and genetic engineering, and the positive advantage of organic production and food. I maintained significant work on those issues as a member of parliament, 2011–2017, and remain committed to this work.
My experience as a BioGro certified grower of 17 years and then board member (2004–2012), including roles on the standards and certification committees, is critical on National Council now that Soil & Health owns BioGro NZ. I understand the importance of supporting a unified organic sector and the regulation of a national organic standard with integrity, ensuring the interests of BioGro and OrganicFarmNZ licensees and organic home growers are met, with a robust organic consumer guarantee.
I have been a town centre organic retailer and was a founding member of the Marlborough Farmers Market, while also New Zealand's then largest certified organic hothouse vegetable producer, selling throughout Aotearoa.
The Soil & Health Association has a long history, and once was a major New Zealand organisation with many branches and a membership rivalling other major NGOs. Membership has fluctuated in recent years and now needs a major lift.
The alarming doubling of the membership fee is unfortunately just one measure of a National Council that has become dysfunctional. This needs a reconnecting with and build of membership, trust and integrity, while ensuring a professionally run organisation.
A strong refresh of the National Council is needed with a mix such as the long experience of Marion Wood and myself with the generational vision of Bailey Peryman and Penelope Bundy.