Super natural growing power
By Anissa Ljanta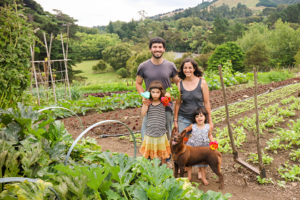 I've seen many small family-run market gardens in my time but none aspiring to an annual turnover of $100,000. I remained skeptical until I visited Niva and Yotam Kay from Pakaraka Permaculture.
In their first season, the annual turnover was $20,000. The second season brought in $50,000 and last year it was $90,000. They also teach workshops so beginner market gardeners can skip the mistakes they made and start at the $50,000 annual turnover point.
Niva and Yotam are originally from Israel and, after travelling the world to explore sustainable living best practices, they founded Pakaraka Permaculture in the Coromandel's Kauaeranga Valley. Now parents of two children, they share land with organic visionaries Jeanette Fitzsimons and Harry Parke from Pakaraka Farm.
The following content is accessible for members only, please sign in.